The measures enacted with regards to the COVID-19 may still affect the Pyvo meetups or the conditions under which they are being held. Please follow the city pages to get the information and contact your local organizing team in case of any questions.
Brněnské Pyvo – Integrating MicroPython and Rust

The meetup took place on Thursday the 25th of November, 2021 at 19:00.
Vzhledem ke zhoršující se epidemické situaci se s listopadovým Pyvem vracíme zpět do ONLINE prostředí.
As the epidemic situation is getting worse again, we are taking the November Pyvo back ONLINE.
---
Join us on Thursday 25. 11. 2021 at 19:00 via Google Meet: https://meet.google.com/wsr-rgzy-cow
The talk will be in English.
Talks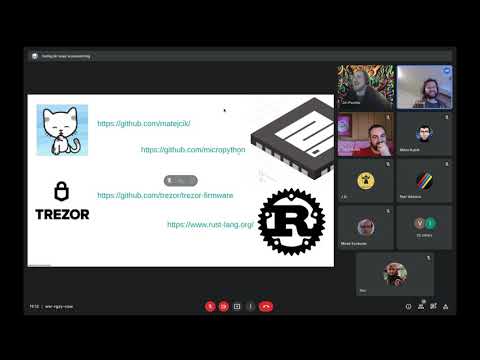 Integrating MicroPython and Rust
Jan Matějek, Head of Firmware, Trezor Company
Co udělá Pythonista, když je jeho kód v MicroPythonu už moc pomalý a žere moc RAM? Přejde na Rust! Dozvíte se něco málo o tom, jak je MicroPython naimplementovaný, jak se z něj volá do Cčka, a jak jeho interním strukturám porozumět v Rustu. A taky proč jsme si pro Trezor T vybrali zrovna MicroPython a Rust, jaká úskalí jsme museli překonat a co nám to přineslo.
---
What does a Pythonista do when their MicroPython code grows too slow and eats too much RAM? Why, they switch to Rust! You'll find out a little bit about how MicroPython is implemented, how it calls C, and how to understand its internal data structures from Rust. Also why we chose MicroPython and Rust for the Trezor T firmware, what pitfalls we had to face and what it brought us.
Elsewhere on the Web: